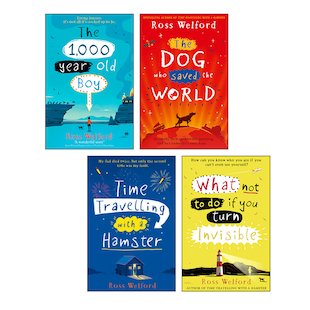 Look inside
Ross Welford Pack x 4
Imagination, humour, a dreamy touch of the impossible: if you imagine a book with all those things, you've pretty much dreamed up one of Ross Welford's novels. Turning invisible. Living to be a thousand years old (but still a kid). Zooming into the past with your pet hamster. Saving your dog – and the whole world. You definitely will laugh out loud. Still, there's always something a bit more serious going on in these novels as well. Like a boy's quest to save his dad's life. Or the mission to be brave and belong. So don't be surprised if, even as they make you smile, these lovely books also (just a little bit) break your heart.
Four amazing novels from rising star Ross Welford
Witty, charming, surreal and utterly heartwarming
Ross's quirky, original voice is winning huge acclaim
He has also worked as a journalist and TV producer
"Ross Welford is a superb storyteller who weaves the magical and mystical into everyday childhood situations with a poignancy and humour that makes you weep and smile at the same time." Sally Morris, The Daily Mail
Who's reading this?
We want to read this book