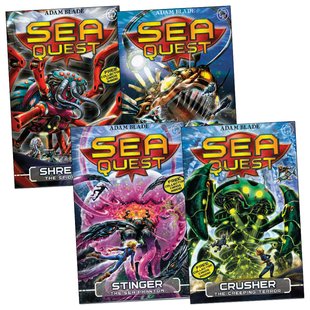 Look inside
Sea Quest Pack: Series 2
Going crazy waiting for the next series of Beast Quest? Never fear. Sea Quest is here to save you. Dive in! We reckon – whisper it! – that this series might be even more awesome than Beast Quest. After all, it has super-cool gadgets, the Beasts are robotic and it all happens in space! Join Max as he wages war beneath the waves, facing marine monsters and mutants who threaten his planet. Will he ever defeat the terrible Robobeasts? This is sci-fi action fantasy gone ultra!
#reading-lists-7
#reading-lists-9
Fun Stuff
Activities
Here's an action-packed picture of Silda the Electric Eel for you to colour!

It's the sensational new series from the creator of Beast Quest! Download free Sea Quest wallpaper.

Dare you dive in? Download cool Max wallpaper.
Who's reading this?