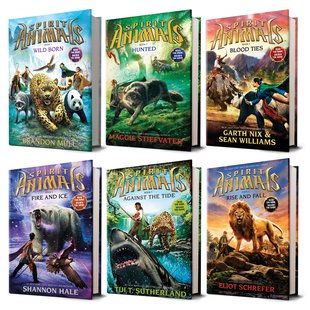 Look inside
Spirit Animals Pack x 6
Shannon Hale. Maggie Stiefvater. Garth Nix. (Marie Lu coming up.) An online game to play. A spirit animal of your own. THE interactive fantasy series to follow. Books. Games. We love 'em both. So why be made to choose? Get the series that's a book and game in one. As perfect as ketchup with chips. The 39 Clues and Infinity Ring sucked in millions of fans. Now Spirit Animals follows the same epic multimedia format. But with magical animals! Don't stay stuck in the real world. Here's a fantasy you can be part of in between homework chores.
Play at www.spiritanimals.scholastic.com
Thrilling interactive fantasy with an online game to play
New York Times bestselling series featuring top authors
Includes Garth Nix, Maggie Stiefvater and Shannon Hale
From the creators of The 39 Clues and Infinity Ring
#sprt-2
#autumn-packs-0916
Fun Stuff
Activities
Love reading about animals? Here are our top tips of old favourites and the best new titles.
Who's reading this?