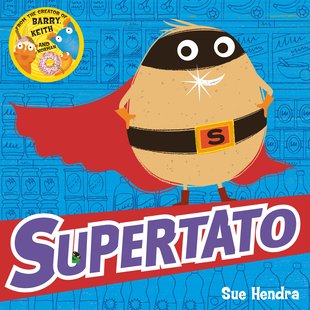 Look inside
Supertato
Sue gave us fish with fingers. Now meet a spud with flavour. He's always there when the chips are down. So zingy he doesn't even need salt and vinegar. This jacket spud is the freshest potato in town. He's got eyes everywhere. Plus a cool superhero get-up: a cape, a belt and a rather snazzy bandit mask. (After all, looks count.) Now Supertato is about to meet his arch-enemy. It's something rather silly. Can you guess? Daft chuckles, evil vegetables and Sue Hendra's bright, bold pictures. Funnier than dancing bananas. Good enough to eat.
By the author of Barry the Fish with Fingers
Laugh-out-loud silliness where veggies save the world
Picture Book winner of the Hampshire Book Award
#world-book-day-2016
Who's reading this?
We want to read this book