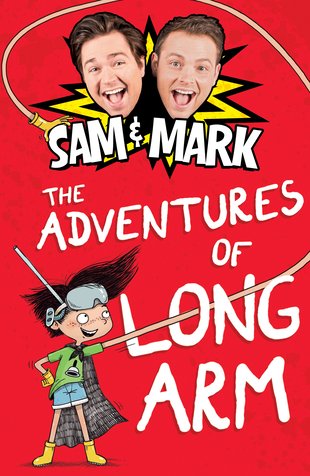 Look inside
The Adventures of Long Arm #1: The Adventures of Long Arm
The first very silly book from funny TV idols Sam and Mark. Toilets and superheroes. Tee hee hee. What's the worst school punishment you could ever imagine? How about cleaning the staff toilets? Yuck!!! What evil genius thought of that? When Ricky gets blamed for stealing Mr Pinkerton's curried egg sandwiches, that's the ordeal this poor kid has to go through. But then Ricky's arm gets stuck in the U-bend, and comes out waaay longer than before. Is this a disaster? No! Is it the birth of a superhero? Yes! Meet the amazing Long Arm: kind of like a one-armed Mr Tickle. Will he tickle the teacher? We're not sure. But we do know he'll tickle your ribs.
#middle-readers
#humour-books
#6-9-books
#lol
#middle-readers-2
#resolution-1-17
#10-for-10-17
Fun Stuff
Activities
Why not run your own Long Arm event in your bookshop, library or school? Here are some ideas on how to make your The Adventures of Long Arm book event super fun!

Simon gives Ricky a pair of Bolster Boots for his birthday to help him play basketball (little does he know, Ricky doesn't need extra help!). Have a go at designing your own Bolster Boots using this template!

Ricky's best friend Simon loves to invent gadgets like the Headcopter and Booster Boots! Have a go at designing your own invention.

In The Adventures of Long Arm, Ricky Mitre becomes an unlikely superhero with a strange superpower! Draw your very own superhero in the space below.

Mr Pinkerton's has a 'list of favourite things' which Ricky calls L.O.F.T. Mr Pinkerton's list includes P. E and curried egg sandwiches (gross!). What things are on your L.O.F.T.? Have a go at drawing some of them.

Can you find all the words below hidden in the grid? Each word is associated with the story of The Adventures of Long Arm and they might be up, down, diagonal or from either side. Good luck!
Who's reading this?
We want to read this book