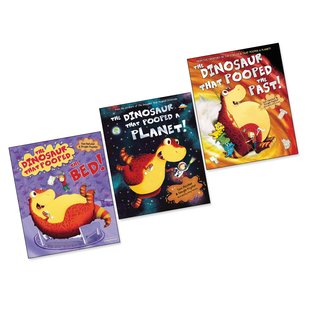 Look inside
The Dinosaur That Pooped Pack x 3
Cheeky chuckles from a bestselling series. This dino loves to eat. He loves to rhyme. He loves to… can you guess what? If you've met this friendly chap before, you'll know he has some – ahem – toilet issues. He eats so much he just can't stop pooping. The result: we just can't stop laughing! Now he's gobbled up a whole planet. He's swallowed the past. Plus, he's eaten all the mess in Danny's room. (Lots.) What do you think will happen next? Hold your nose and stand well back!
Disgustingly funny rhymes from a best-loved series
Written by members of chart-topping band McFly
Rapturous reviews from parents and children
"A work of genius" – The Bookseller
#gift-guide-mini-funny
#isbc-funny-books
#world-book-day-2018
#march-british-science-week-18
Fun Stuff
Activities
Activities, games and more.