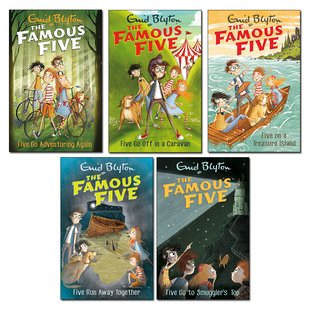 Look inside
The Famous Five Pack x 5
Are you the leader, like Julian? The tomboy, like George? Or as loyal as Timmy the dog? Meet the five sleuths who show all the rest how it's done. Mystery-busters The Famous Five are loved all over the world. They're as classic as Coca-Cola. And now their books have a new cover look! They look great outside – but what's inside? Lots to make you very happy! Daring missions, clifftop picnics and spooky ruined castles. Seaside bike rides, sinister smugglers and cryptic crimes!
Adventure classics loved by millions of readers
Thrilling mysteries in an idyllic seaside setting
A wonderful way to get kids addicted to reading
The first five series books – a great place to start!
#wbd-authors-17
#enid-blyton-17