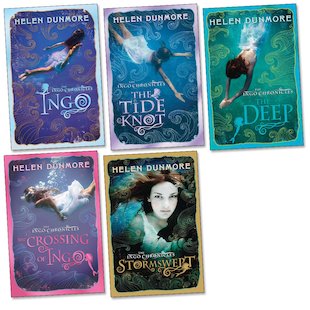 Look inside
The Ingo Chronicles Pack x 5
Once there was a man who fell in love with a mermaid. He swam down into the sea to be with her, and was never seen again…
Sapphire's father told her that story when she was little. When he is lost at sea she can't help but think of the old myth. Then, the following summer, Sapphy meets Faro – an enigmatic Mer boy. Diving down into Ingo, she discovers an intoxicating world she never knew existed, where she must let go of the airy world above, and embrace the sea… But Sapphy doesn't just crave the wild world beneath the waves; she also longs to see her father once more. And she's sure she can hear him singing across the water: I wish I was away in Ingo, far across the briny sea… Draw readers into mystery and magic with this haunting, sea-drenched quartet set on the Zennor coast of Cornwall. Steeped in myth and legend, and full of the resonance of the deeps, this saga shows leading poet and author Helen Dunmore at her lyrical best.
"Ingo has a haunting, dangerous beauty all of its own." Philip Ardagh
"Intensely compelling… gorgeous." Amanda Craig, The Times
"Like the ocean itself, this book is deep and strange and marvellous." Nial MacMonagle, The Irish Times
#sci-fi-fantasy
Who's reading this?
We want to read this book