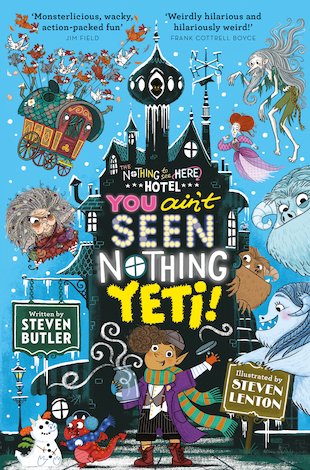 Look inside
The Nothing to See Here Hotel #2: You Ain't Seen Nothing Yeti!
Look away now! There's nothing to see here. And who said yeti? Get a grip! Yetis are not real, OK? Well, except at the hotel that Frankie Banister's family run. It's top-secret, but monsters and magical critters are the order of the day. Frankie has just saved the hotel from a goblin prince. Now he and the guests are looking forward to celebrating the summer festival of Trogmanay. But then a snow storm blows in, complete with a yeti family. That's not very summery, is it? As a big freeze takes hold and several mysterious guests show up, Frankie's worries grow. Something sinister seems to be taking over the hotel, and celebrating is the last thing on his mind…
Second in this magical, fabulously funny series
A wonderfully wintry adventure to curl up with
By the bestselling author of The Wrong Pong
A gem of a series that's winning huge acclaim
"Welcome back to the Nothing to See Here hotel – where we have complimentary weirdness in every room and hilarity is available twenty four hours a day." Frank Cottrell Boyce
Who's reading this?
We want to read this book