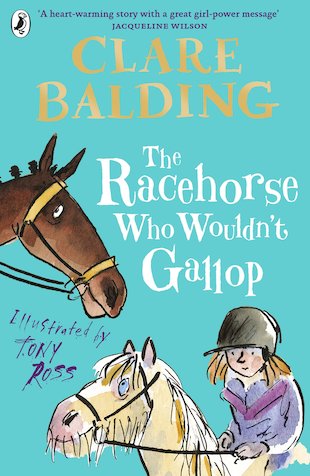 Look inside
The Racehorse Who Wouldn't Gallop
Charlie Bass has a dream: to win the Derby. For this she needs a jockey, a horse – and lightning speed. (Well, two out of three isn't bad.) She's always wanted a pony. Now she's accidentally bought a racehorse. Perhaps her Derby dream might come true after all! Noble Warrior certainly looks the part: strong, fit and healthy. Charlie even has a jockey lined up: her talented friend Joe. There's just one problem. Noble Warrior won't gallop. He won't even trot around his field. Can Charlie find the hidden champ inside her reluctant racehorse? Her tale will warm your heart and make you laugh out loud!
A wonderful novel from sports heroine Clare Balding
Clare is a top racing broadcaster and former jockey
Funny, heartwarming, thrilling and full of horse facts!
A real crowd-pleaser that David Walliams fans will love
"A heart-warming story with a great girl-power message" – Jacqueline Wilson
#resolution-1-17
#fiction-7-9-reading-collections
#world-book-day-2018
#sum-18-ie
Who's reading this?
We want to read this book