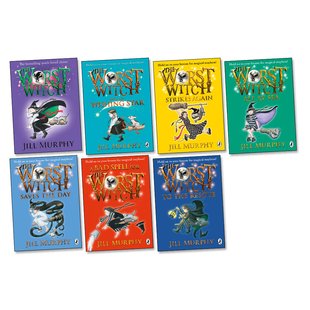 Look inside
The Worst Witch Pack x 7
Hubble, bubble, toil, trouble. Magic is on the timetable in the series that inspired Harry Potter! Welcome to Miss Cackle's Academy for Witches. (Think Hogwarts minus the wizards, but with way more rules.) Mildred Hubble is the worst student ever to darken the doors of this very strict school. Every spell she attempts goes very wrong. And things get even worse when she makes a deadly enemy of teacher's pet Ethel… Classic fun with devoted fans all over the world, and over four million books sold. Just how magical is that?
Jill Murphy's classic series about a school for witches
Said to be the inspiration behind the Harry Potter books
Wonderful stories about fitting in and proving yourself
Laughs, spells, school, disasters – a bewitching brew
#flashsale6
#age7to9
#bookpacks-0816
#fiction-7-9-reading-collections
#gift-guide-xd-film-tv
#gift-guide-xd-magic-adventure
#gift-guide-xd-classics
#gift-guide-xd-bestsellers
#film-tv-november-17
#sum-18-ie
Fun Stuff
Activities
We think fans of Mildred Hubble will love these funny, magical advenutures.
Who's reading this?
We want to read this book