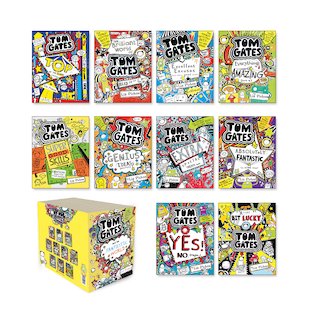 Look inside
Tom Gates: Tom Gates and His Fantastic World
The perfect place to say hello to Tom and his bonkers life. A box set to take pride of place on your bookshelf. Welcome to the brilliant world of Tom Gates. Or rather, welcome to Tom's battered homework diary, where he writes down all the funny stuff that happens to him. Who is Tom? A naughty schoolkid with a talent for doodling (and for making you laugh till your sides go ouch). He's a master of excuses, expert doodler and cool rock guitarist. And a Roald Dahl Funny Prize winner with millions of loyal fans. Basically, he's AMAZING. And if his teacher is jealous – SO WHAT?
Bumper box set from a Red House Award winning series
Tom's first book won the 2011 Roald Dahl Funny Prize
Laugh-out-loud humour and amazing cartoon pictures
Over two million Tom Gates books sold in the UK alone
#gift-guide-xd-bestsellers
#gift-guide-teen-bestsellers
#pack
#isbc-handpicked
Who's reading this?
We want to read this book