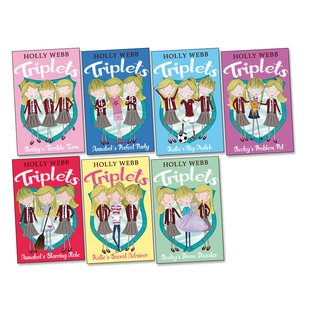 Look inside
Triplets Pack x 7
We're off to school with Holly Webb and three super sisters. Fiction made in heaven. As awesome as Malory Towers. Meet three sisters who look alike but are very different on the inside. Sparkly Annabel dreams of being famous. Katie is the sporty, confident one. Animal-mad Becky keeps an array of pets in the garden shed. Now they're moving up to senior school – a brand new chapter in their lives. Would you be excited, happy or nervous? Take all your feelings and times them by three.
Fabulous realistic fiction by top author Holly Webb
Captures the essence of school life and family life
Endearing portrait of three very different triplets
Holly's bestsellers include the Emily Feather series
#autumn-packs-0916
Who's reading this?
We want to read this book