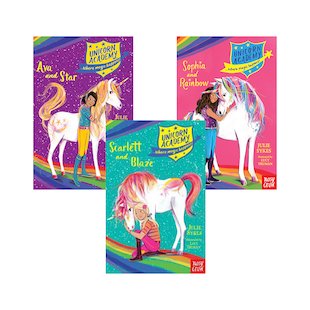 Look inside
Unicorn Academy Pack x 3
Imagine a school where girls have unicorns for best buddies! No, we're not joking. This school really exists. It's Unicorn Academy, and you'll find it on beautiful Unicorn Island. It's a perfect place where girls and unicorns team up! Come and meet three of those teams in these wonderful stories: Sophia and Rainbow, Ava and Star, and Scarlett and her majestic Blaze. Each of the teams has a special skill, such as growing rare and magical plants. But are their talents enough to save their school when danger strikes?
Magical mysteries set at a seriously cool school
Think Malory Towers – with beautiful unicorns!
Appealing short fiction to build reading fluency
By the bestselling author of Princess Ponies