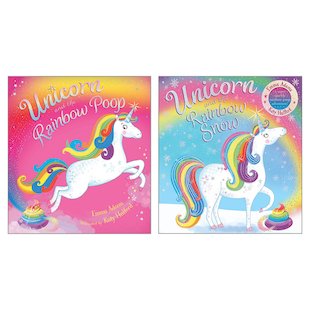 Look inside
Unicorn and the Rainbow Poop Pair
Magical favourites. Fill every day with rainbows! Say hello to Unicorn. She has a beautiful silky-smooth mane, a glittery horn that sparkles in the sunlight and perfect pink hooves that shine as she gallops. She's basically just like every other unicorn out there. Except for her rainbow poop, of course. Wait – haven't you heard about her rainbow poop? Everyone's heard of it, haven't they? Oh – and even if you know about the poop, do you know about her RAINBOW SNOW ?
Delightful picture books full of rainbow-coloured joy
Beautifully bright, seriously uplifting and totally fabulous
All the fun of The Dinosaur That Pooped – with unicorns!
These feelgood bestsellers are utterly sweet and charming