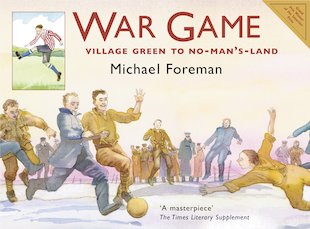 Look inside
War Game
This Smarties Prize-winning picture book about a trench football game shows you the First World War in powerful simplicity. Four friends from rural Suffolk go away to fight at the Front. They confront the German soldiers and the mud, cold, death and vermin of the trenches. But one Christmas Day, an incredible thing happens. One by one, soldiers from both sides emerge from their trenches and put aside the war. Together, they play a historic game of football in No Man's Land… No book gets you closer to the reality of the war than this moving true story, which includes historical notes.
"A masterpiece." Times Literary Supplement
"Foreman tells this harrowing story with truth and simplicity… an unforgettable experience." Guardian
#warstories
#wwi-010716
#firstworldwar-sc
#readandrespond-0816
#rrchildrens
Who's reading this?
We want to read this book