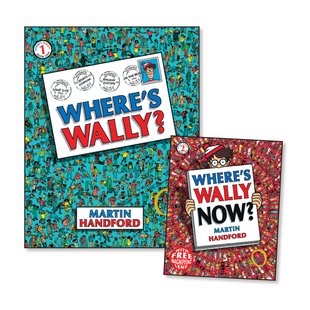 Look inside
Where's Wally? with FREE Where's Wally Now? Mini Edition
Aren't we nice to you: here's a free Wally book. (But don't thank us till you find him.) Two search-and-find classics. A double dose of Wally! Will that make him easier to find? Hmm. Don't count on it. He might appear twice as often – but that means he gets double the practice to perfect his vanishing skills! You know the drill: red and white stripy jumper. Big glasses. Bobble hat. This kid doesn't sound all that hard to spot, does he? It's one of life's mysteries: how does Wally get so good at hiding? The other mystery: WHERE IS HE?
Double the excitement from this classic spotting series
The original Where's Wally? plus a

FREE

mini book
Brilliantly illustrated with Martin Handford's unique art
Test your observation skills with a feast of visual fun
Who's reading this?
We want to read this book